Making Your Brand the Main Event
At rEvolution, we don't just bring brands to events, we make brands the event. Whether it's a grassroots activation or multi-year installation, we develop immersive, brand-centric environments and experiential programs that become a destination for fans.
Custom to brand objectives and our creative strategy, each touchpoint with fans is an opportunity to add value to their experience. From digital takeaways built into the footprint to no-or-low-touch engagements, we craft simple and elegant solutions to fit our clients' goals and space.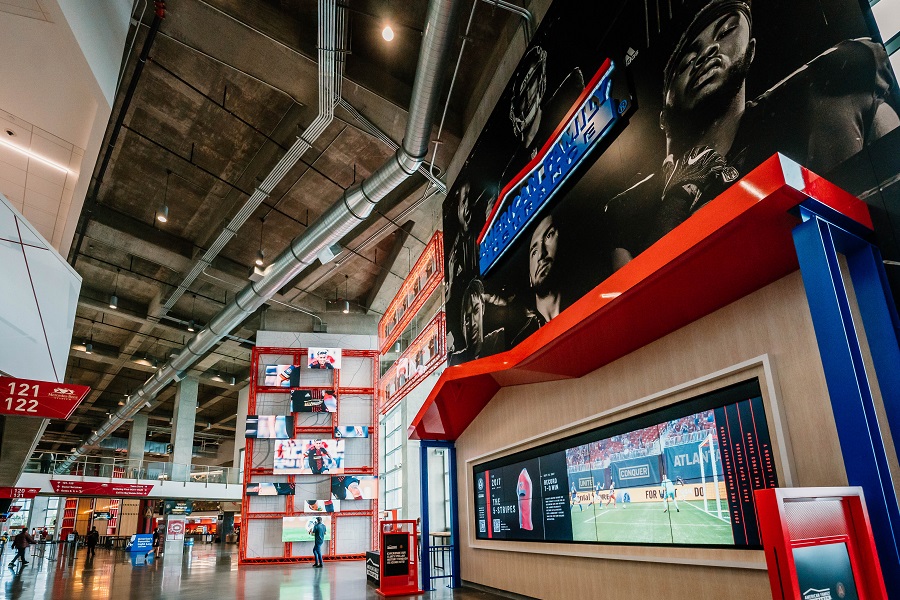 Impactful Marketing Experiences, Bridging Brands to Fans
rEvolution's experiential production team delivers brand activations to fans of every kind.
Lasting Impressions
Understanding your audience and leveraging strategic location and cutting- edge technology helps rEvolution create community-centric long-term installations that will always excite those passing by and capture the attention of large audiences across an extended amount of time.
Gameday Experiences
rEvolution designs gameday activations that elevate the sports fan experience. Whether for the team or brand, delivering a custom-made marketing experience that authentically connects you to the fans and builds the right kind of lasting relationship.
Campaign-able Programs
rEvolution creates experiential programs that extend beyond their physical presence, bringing the brand to life through integrated elements that offer on-site immersion, encourage online engagement and provide meaningful takeaways that all work together to make sure your brand always stays top of mind.
Lasting Impressions Case Study
American Family Insurance – Atlanta United
American Family has a long-standing commitment to the club, having signed on as the Official Kit sponsor before any matches were played. To celebrate Atlanta United's fifth year, American Family wanted to re-imagine its concourse footprint to both reflect its commitment to Atlanta as well as provide fan-centric experiences in an engaging, safe, low-touch way.
A massive space inside Mercedes-Benz Stadium, rEvolution developed three distinct focuses — on the fans, the partnership and Atlanta – all connected visually under the American Family brand. The signature activation element is the Kit Stories, a digital timeline that shares the club's history through the kits themselves, as well as unveiled the Unity Kit. The space also includes a larger-than-life A/R fan cam and digital screen array utilized to highlight season-long content. Lead-gen was seamlessly integrated throughout the season with registration connected to sweepstakes and branded premiums.
Gameday Experience Case Study
Chicago Fire FC – Burnham Downs
Pre-match tailgating was finally back, and Chicago Fire asked rEvolution to make sure there was no better way for fans to start their Chicago Fire home matchday at Soldier Field. Enter Burnham Downs, the fan-focused experience that was guaranteed to hype up Fire fans before every home game at Soldier Field.
At Burnham Downs, you could test your speed and coordination soccer skills, catch a local artist live painting something Fire-themed, grab an ice-cold beer (if you're over 21), check out the local food trucks (different every game) and shout players' names while the Starting XI Flags are raised, all to build a stronger Fire community for generations to come.
Campaign-able Program Case Study
American Family Insurance – Summerfest
Summerfest's most exclusive venue, the American Family House is all about bringing everyone closer together through a shared love of great music, building long-lasting connections at every moment. 
Creating that special House environment for every guest proved all in the details. In addition to booking big name artists and local talents for the small stage, the walls were covered in gig posters made from Wisconsin-based artists, photo ops were at every turn, including a photo station that overlayed Summerfest filters on every photo, a custom hands-on merch area allowed every festival-goer to make their own "Summerfest" patched and pinned packs, and the lounge deck proved the hangout spot all month long. Lead-gen was seamlessly integrated throughout the entire experience to ensure it was a smooth and enjoyable process for everyone.
How it works together
Our experiential production team works with service groups across rEvolution to align on marketing strategies, design, messaging and advertisements that result in successful branded experiences.
Craft a location strategy and better understand the target audience.
Design the consumer experience with ideation and renderings to inform production.
Craft the message and content with our in-house specialists.
Ensure messaging reaches the right fans.